Vietnam
We are scaling a hypertension prevention and management pilot that began in Ho Chi Minh City to reach all of Vietnam and to include other NCDs.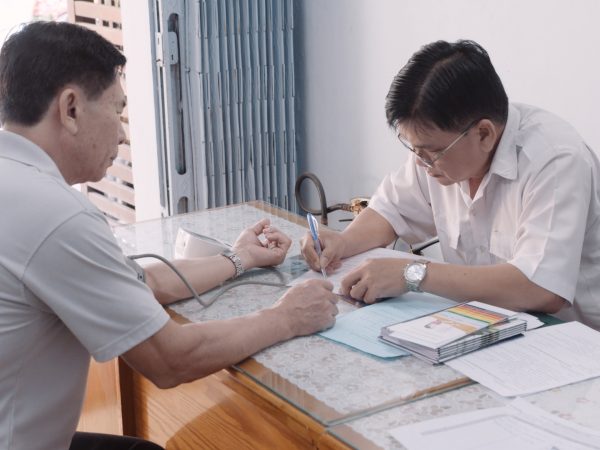 Country Implementation
Primary health care is where the battle for human health is won and lost.
Dr. Tedros Adhanom Ghebreyesus, World Health Organization
Approximately 25 percent of adults in Vietnam have hypertension, but only half of these people know they have the condition.
In 2019, Access Accelerated began work with PATH and the Ministry of Health to scale a successful hypertension prevention and management pilot supported by the Novartis Foundation from 2016 to 2018, in four districts of Ho Chi Minh City (HCMC). As the program scales, it will also include diabetes and eventually mental health, cancer and other NCDs.
The program, Communities for Healthy Vietnam, employs an innovative health care delivery model to improve patient management of hypertension and diabetes. Using lessons learned and capacity strengthening activities, the model will be scaled up nationally. PATH has worked closely with the Ministry of Health and provincial leadership to build the foundation needed to expand primary health care strengthening efforts in Vietnam by implementing this people-centered and community-based care model for diabetes and hypertension. By setting up free checkpoints in convenient community hubs such as markets, cafes and barbershops, we bring screening and referral services to people in places they already frequent.
Objectives
Strengthen Primary Care Systems

From 2020 to 2022, our focus is to strengthen primary health care systems to deliver high-quality NCD services and commodities where needed, including the development of effective, replicable services across Vietnam. This will be done under a World Bank project, supported by a grant from Access Accelerated.
Milestones
2018 – 2019

Increased Screenings

In 2019 alone, 10,000 people were screened, and 5,000 people living with hypertension and 1,000 people with diabetes were linked to care.

2020 – 2022

Refine & Scale

In the coming years, we will refine the community-based care model for hypertension and diabetes demonstrated in target districts to expand to three provinces of Ho Chi Minh City, Khanh Hoa and Hanoi, with the goal of ultimately reaching all of Vietnam.

We also aim to utilize offline self-management tools, demonstrate their utility at project sites and evaluate their effectiveness.
In partnership with PATH and Vietnam's Ministry of Health, we are scaling a successful hypertension prevention and management program – started by Novartis Foundation in 2016 in Ho Chi Minh City – to reach all of Vietnam and to include additional NCDs.