A letter from Outgoing Director, Access Accelerated
Today, I share with you a moment that brings both an ending and a beginning. As I prepare to retire from my role as Director of Access Accelerated at the end of this month, I wanted to share some reflections and thoughts for the future.  
As a former chair of Access Accelerated during its formative years, and as its director over the last year and a half, I have seen the transformative potential of the biopharmaceutical and life science industry when we pool our resources and pull together towards a common vision of improved access to NCD care. We have made unprecedented strides over the past six years, evidenced in our recently published report, Key lessons in advancing NCD care: Collaboration, Connectivity, Community. 
Just last year, Access Accelerated supported more than 50 projects in over 30 countries that helped to screen 11 million people and provided life-changing NCD treatment to 3.5 million – a 1140% increase over the previous year. Collectively, our reach has extended to 700 million people, through training, treatment, and policy shaping.  
But the most significant impact of our work is the catalytic role that Access Accelerated has played in funding for NCDs. From 2020 to 2022, our initiatives stimulated an additional investment of 3.7 billion USD in NCDs. This remarkable impact underscores the central role of Access Accelerated in unlocking critical investments for NCDs and to the achievement of Universal Health Coverage – a cornerstone of the UN Sustainable Development Goals. 
As we embark on the next chapter, it is with great optimism and confidence that I share news of our forthcoming leadership transition. I am pleased to announce that Herb Riband, an individual who embodies dedication and experience in equal measures, has been approved by Access Accelerated member companies to take up the role as the interim director of Access Accelerated. 
Herb brings a unique and invaluable perspective to the table. He has spent over three decades working with multinational healthcare companies, industry associations, start-ups, NGOs, and academic professionals, gaining an intimate understanding of the global health and NCD landscape. His experience, built on innovating global health and healthcare delivery for patients, will be instrumental in guiding Access Accelerated as we continue to expand our reach and deepen our impact. 
Working together for sustainable NCD solutions that deliver lasting impact for those in low-and middle-income countries and underserved communities is the lifeblood of what we do. It remains important as ever as we move into this new chapter of Access Accelerated. As we look ahead to the months and years to come, we have a pivotal opportunity to support governments to make accelerated progress and a positive difference to the health, wellbeing and futures of people living with NCDs.  
As I prepare for my transition, I carry with me a profound sense of optimism and anticipation for the future. I am confident that Access Accelerated will continue to break fresh ground and create impact for people living with NCDs, everywhere.  
Onward, we go!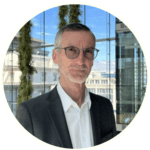 Martin Bernhardt
Outgoing Director, Access Accelerated