Explore the Access Accelerated interview series, where trailblazing leaders, visionary thinkers, and passionate advocates share their bold ideas and innovative approaches for the future of Non-Communicable Diseases (NCDs). These interviews are featured in the six year report, Key Lessons Advancing Access to NCD Care: Collaboration, Connectivity, Community, and offers fresh perspectives and incisive insights as we look to transform the future of access to NCD care.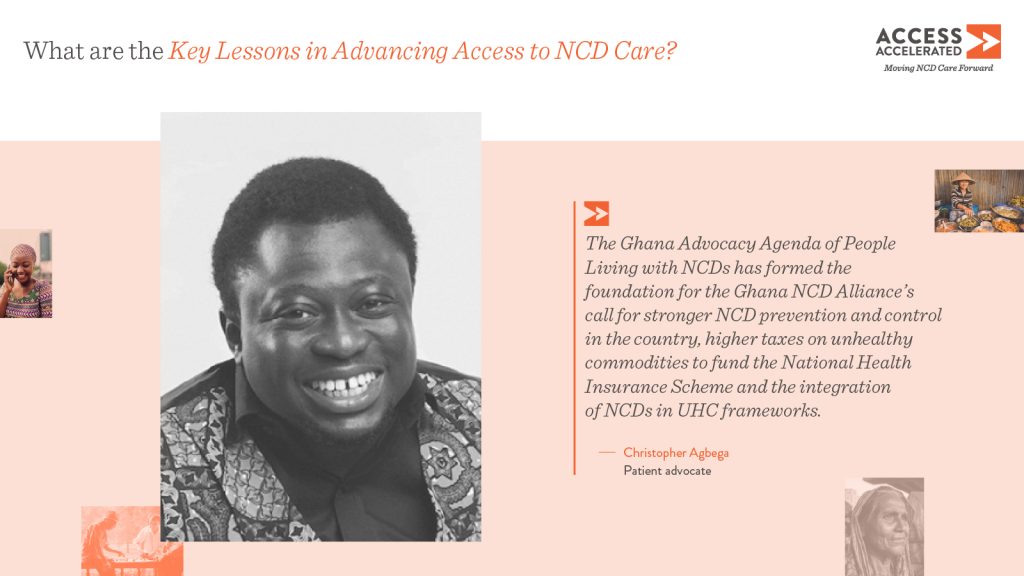 Though Christopher Agbega was 16 when the first symptoms started to appear, it would take another nine years until he was formally diagnosed with Hereditary Motor Sensory Neuropathy, aged 25. The rare disease, also known as Charcot-Marie-Tooth Disease, is an inherited, progressive disease of the nerves resulting in sensory loss, muscle weakness, and atrophy. Today, through the NCD Alliance and its program Our Views, Our Voices, Chris is a passionate advocate for young people living with hereditary conditions, channeling his lived experience towards empowering the patient community and demanding stronger action on NCDs. Below, Chris recounts his struggle with reaching diagnosis, the challenges of unaffordable healthcare, and finding inspiration and optimism in sharing his story.
My symptoms started when I was around 16. I could still walk around, but I was starting to get tired very quickly. As time went on, I began to get weaker, needing a walking stick, and then a Zimmer frame. It was a very challenging time, not just physically, but also mentally and emotionally; as a very active teenager with newfound independence, there was so much anger and confusion about what was happening to me. I went from one doctor to the next and none of them really understood what was going on, and that was incredibly frustrating. I remember at one point, after numerous inconclusive tests, I was told I needed an MRI scan. It was expensive, and finances were extremely tough. It was so disheartening to be one step away from finally knowing what is going on with me and not having the money to pay for the MRI scan that I needed. Instead, like so many others, I just had to figure out how to live my life with an unknown condition.
The turning point came in 2015, when a friend of the owner of the radio station where I worked took an interest in me and what I was going through. He took me to a private hospital here in Ghana, where I was introduced to a specialist who finally diagnosed me. Even after my diagnosis, the question was "Right, what now? What next?".
I have a name for my condition and know what treatment I need, but don't have the funds. It felt like my life was in a loop.
I got in touch with a few organizations, including the NCD Alliance, and that's where it all started. I got involved with the Our Views, Our Voices initiative, which seeks to meaningfully involve people living with NCDs in the NCD response, supporting and enabling people like me to share our views to take action and drive change. They helped me understand that there's more to what I was going through than the loop I found myself in, and that sharing my experience could help others.
Standing up and speaking out takes a lot of guts. In certain communities, it can be heavily frowned upon. Sitting in a room with doctors and experts, who, based on education, know so much more than you do, can be very intimidating. Some people don't want to listen to you, or people try to downplay your condition. That's very difficult.
Very often people want to make it look like it's a "you" issue. No. It's an "us" issue. Just because I get my medication, it doesn't mean everybody gets theirs.
The Our Views, Our Voices initiative equipped me with the skills, knowledge and opportunities to be an active player in the NCD movement, and the confidence to speak out. I realized I had an opportunity with my platform to speak not just for myself, but for a whole community, the source of the power of my voice comes from the community I represent. When I speak in front of dignitaries, government ministers, and healthcare decision-makers, I want to paint a picture of our lived experience and make them understand that people living with NCDs have the resources, information and experience that policymakers need to take the right step and have the right impact. It's so important that we are heard and listened to.
If you are trying to serve a patient and meet their needs, then they have to be at the center of the whole conversation.
You don't come up with your solution and think it's going to work without consulting the patients.
Involving patients is the key to making the right impact where it's needed most. The fact that more people living with diseases are speaking up fills me with optimism. The more voices we add to the conversation, and the louder we are, the more we are going to get through to the people who can make a change. And I am hopeful because I am seeing a lot more political commitment in Ghana.
As a patient advocate, I'm always looking for avenues to sustain the conversation, to represent my community, and to elevate the patient voice as much as possible in these conversations.
Christopher Agbega lives with Hereditary Motor Sensory Neuropathy and is an advocate and peer trainer for the Ghana NCD Alliance and a project officer of the Ghana Federation of Disability Organizations. He sits on the Global Advisory Committee of the Our Views, Our Voices initiative.
Read more interviews in the Key Lessons in Advancing Access to NCD Care report.