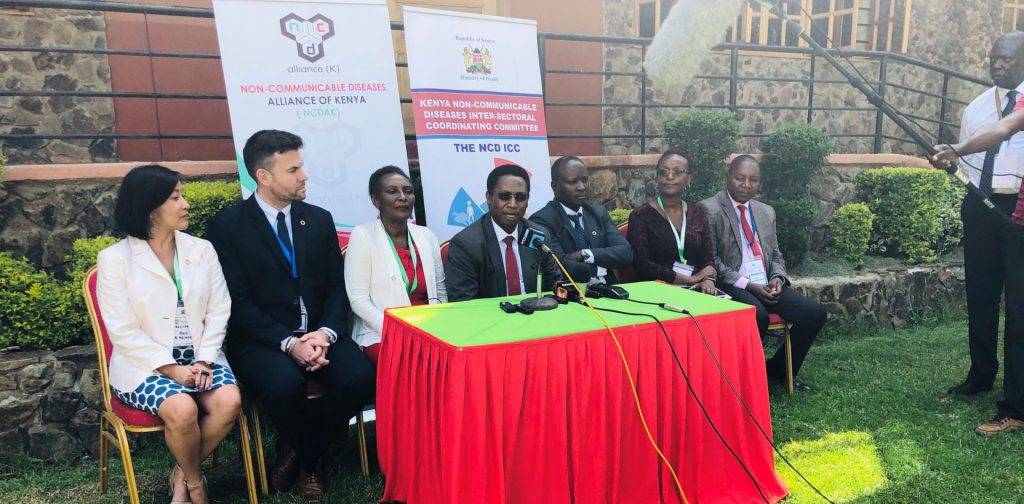 Access Accelerated returned to Kenya from 28 February to 1 March for the non-communicable diseases (NCDs) stakeholder meeting, "Redefining UHC – the Opportunity for NCDs," co-hosted with the Ministry of Health and NCD Alliance Kenya in Naivasha. With representation from the Kenyan government across ministries and attendees that spanned civil society, representatives from 12 Access Accelerated member companies, people living with NCDs (PLWNCDs) and government officials from six African nations, the meeting provided a forum to reflect on progress made and recommit to increasing access to NCD treatment and care in the context of the country's push toward Universal Health Coverage (UHC).
Progress in Kenya
There continues to be strong political will to advance the NCD agenda in Kenya. In March 2018, the Ministry of Health convened a broad group of stakeholders, including Access Accelerated and its partners NCD Alliance Kenya, the World Bank and PATH, to provide input on: (1) how to incorporate NCD priorities into health system strengthening efforts and (2) a core package of NCD services to be offered in an anticipated UHC system. This meeting, titled "Naivasha II", represented a critical reengagement on the Kenya NCD Strategy that was developed at an initial "Naivasha I" meeting some years earlier. The 2018 Naivasha II meeting instituted a broader and more collaborative multi-stakeholder approach to policy development.
In December 2018, President Uhuru Kenyatta LAUNCHED KENYA'S UHC COMMITMENT AND PILOT PROGRAMME, including full coverage for NCD conditions such as asthma, cancer, diabetes, hypertension, stroke and anemia in four initial counties. Intersectoral engagement, coordination and input continued and in the lead-up to the 2018 UN High Level Meeting on NCDs, the government created the NCD Intersectoral Coordinating Committee (NCD-ICC) to bring together technical expertise across sectors to drive implementation and identify cross-cutting issues. The ICC is led by Dr. Jack Kioko, Acting Director of Medical Services at the Ministry of Health, who serves as the chair, with Dr. Eva Njenga of the NCD Alliance Kenya, who serves as co-chair.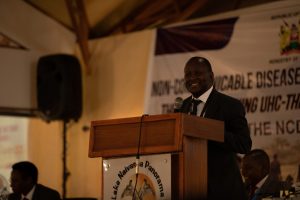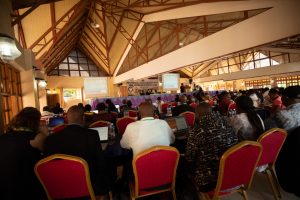 Discussions at "Redefining UHC – the Opportunity for NCDs"
In 2019, the Ministry of Health, NCD Alliance Kenya and Access Accelerated continued inclusive dialogue on NCD priorities with "Redefining UHC – the Opportunity for NCDs" (also referred to as Naivaisha III), the third meeting in what will be an annual convening to discuss NCD challenges, opportunities and progress to date. As with Naivasha II, this 2019 event served as an important and productive forum to continue discussions on NCD integration into the UHC rollout, take stock of strategic partnerships and advance engagement of PLWNCDs in NCD programming and policymaking. The Ministry of Health will be releasing an official communique with conclusions from the meeting in the coming weeks.
In addition to active participation in the Naivasha III dialogues, Access Accelerated contributed a full update on the initiative's contributions to strategic partnerships and reaffirmed its commitment to sustained engagement in Kenya. Over the last year, Access Accelerated has launched a number of key partnership activities in the country, BUILDING ON THE MORE THAN 25 ONGOING NCD PROGRAMS led by member companies:
Pilot Program: In 2018, Access Accelerated launched an integrated care initiative in partnership with the World Bank and local implementer, AMPATH, to pilot a streamlined model for addressing NCDs at the primary care and community levels in two counties. This year, AMPATH shared the results from the baseline survey for the pilot program, known as PIC4C, which showed glaring gaps in NCD awareness and healthcare worker capacity. As the pilot advances and expands to two additional counties in Kenya, goals include achieving dramatic improvements in key metrics such as cervical cancer screening and effective control of hypertension and diabetes.
Advocacy Agenda of PLWNCDs: NCD Alliance Kenya presented the Advocacy Agenda of PLWNCDs in Kenya, a collaborative effort from more than 150 PLWNCD advocates developed with support from Access Accelerated in 2018. This Agenda is an important resource that captures the needs and priorities of those living with NCDs and their caretakers, and can be used to guide effective, responsive and inclusive NCD initiatives.
PATH NCD Program System: Access Accelerated partner PATH presented on the initial results of a dynamic initiative begun in 2018 to build a living body of knowledge that captures NCD initiatives across Kenya and contributes to efforts to reduce fragmentation, build collaboration and address gaps in NCD care.
Key Conclusions: Ongoing Challenges
Several challenges were also raised and discussed among stakeholders in Naivhasa. There is a need to secure sustainable financing and effectively prioritise the use of limited resources to ensure effective capacity at the county level – including human resources, supplies and infrastructure – is available to meet the increased workload of UHC expansion with integrated NCD services.
Further, the lack of ongoing data collection on NCDs was identified as a critical gap as few indicators have been integrated into national surveillance systems. Real-time information on NCDs would enable decisionmakers at national and county levels to understand the burden on the ground, prioritise resources and analyse the results of the UHC pilots more effectively. The Kenya Ministry of Health is currently engaging the National AIDS Control Council (NACC) to apply their expertise in mathematical modeling to understand the interaction between HIV and NCDs.
Opportunities for Enhanced Collaboration
The UN Sustainable Development Goal (SDG) to reduce pre-mature mortality from NCDs cannot be achieved without harnessing the global partnerships outlined in SDG 17. At the Naivasha III convening, the value of "PPPPs" – public-private partnerships (PPPs) and the "fourth P" of engaging PLWNCDs in the decision-making process – was agreed to be critical. There is a need for the wider NCD community to unify behind a coherent message to ensure both the challenge – the growing burden of NCDs in Kenya – and the solution – a multi-sectoral response to addresses barriers to prevention, treatment and care – are understood.
Sharing Insights Across Africa and Globally
Representatives from the Ministries of Health and NCD Alliances of South Sudan, Rwanda, Uganda, Ghana, Burundi and Zanzibar attended the event in Naivasha to learn from the model Kenya is setting and discussions centered on how to scale and implement similar multi-sectoral approaches in other contexts.
Following the Naivasha III meeting, Access Accelerated continued these discussions in Kigali, Rwanda by sponsoring and participating in the Amref AFRICA HEALTH 2019 conference, including joining a plenary discussion on the power of PPPs to drive access to and quality of health services.
Moving forward in 2019 and beyond, Access Accelerated is committed to sharing lessons and scaling successes in Kenya to Ghana and Vietnam.
Notable Coverage and Conversation
The meeting in Naivasha was widely covered in Kenyan media: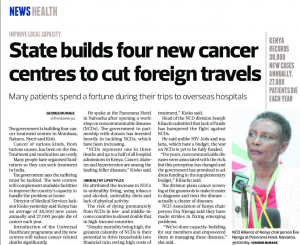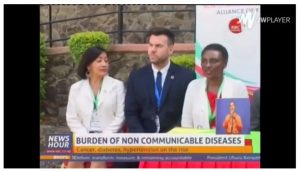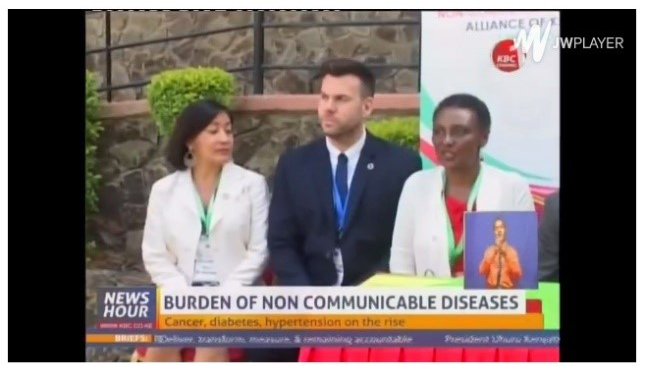 To see all coverage resulting from the meeting, CLICK HERE.
REMEMBERING DR. GRACE KARIUKI
Grace Kariuki, the lead rapporteur for the Naivasha III meeting, was one of the victims of Ethiopian Airlines flight 302. A brilliant young doctor working with the Ministry of Health to expand access to cancer services, please remember Dr. Kariuki's contributions to cancer care and her tireless passion for improving the lives of people in Kenya. Read more about her legacy HERE.