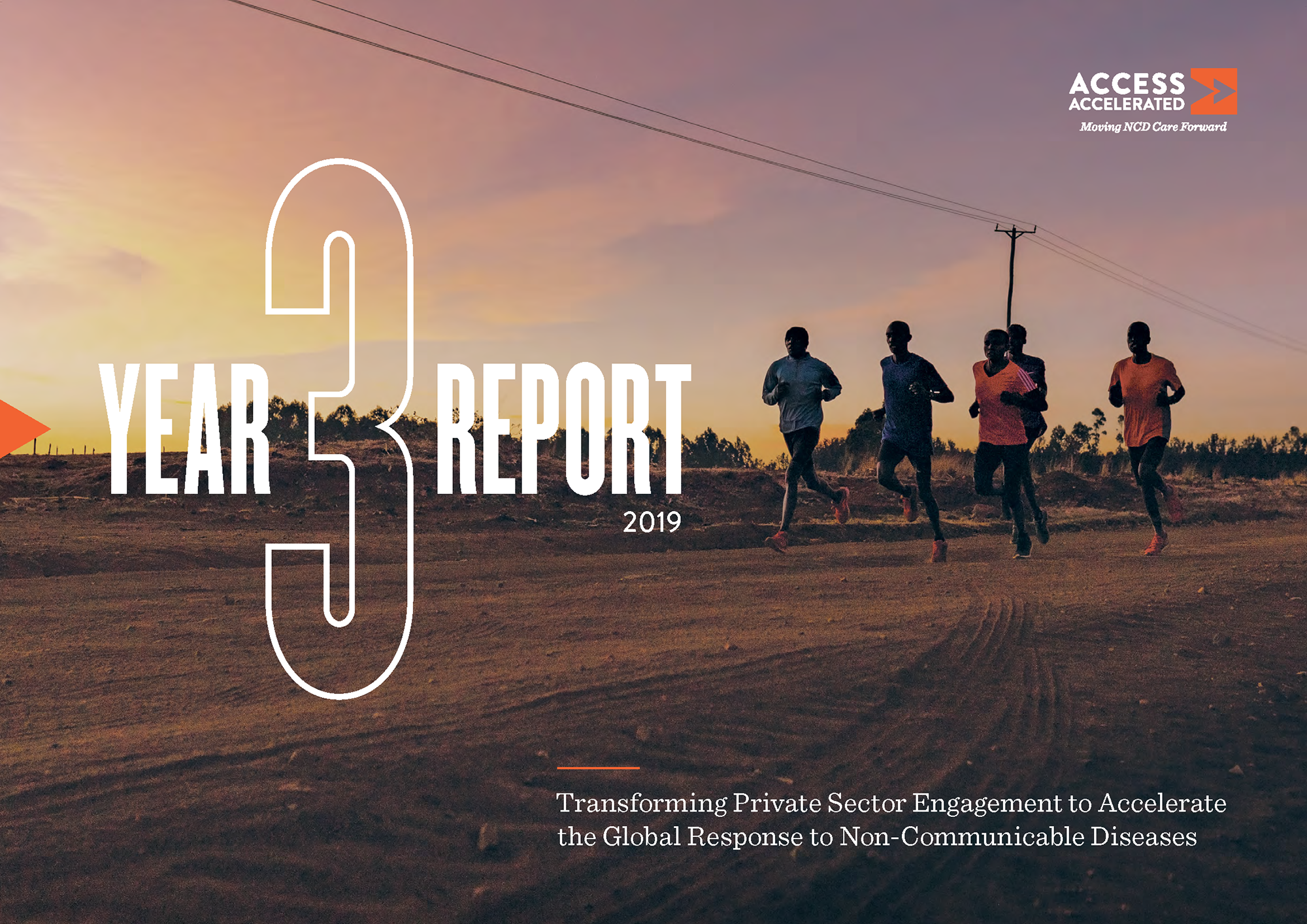 Access Accelerated is proud to launch its Year 3 report, chronicling our collective efforts in 2019 to advance access to NCD prevention, treatment and care in low- and middle-income countries.
In our first three years, Access Accelerated made tremendous progress. We informed local and global health policies, accelerated investment in health systems and advanced strong partnerships across the public and private sectors. Year 3 marked an important point in our journey, as we positioned our partners to scale solutions in supply chain, digital health and primary care. From advocating for the meaningful involvement of people living with NCDs to working with country government partners to support policy and decision-making, we listened intently and worked collaboratively to foster sustainable solutions.
Our work in 2019 wouldn't be possible without our 27 member companies and five implementing partners — the World Bank Group, City Cancer Challenge, NCD Alliance, PATH and World Heart Federation. Together, we are setting a new standard for public-private partnerships and continually evolving to address the needs of people living with NCDs.
Today, as our world faces the unexpected impacts of COVID-19, these needs have changed. In the words of our member companies in our annual Letter from the CEOs, "As we start our fourth year in the context of the unprecedented COVID-19 crisis, Access Accelerated will continue to lead by example, building on successes and learning from setbacks, and working to mitigate the pandemic's impact on people living with NCDs."
In Year 4, Access Accelerated is building from the strong foundation laid in 2019 to not only continue our work toward UN Sustainable Development Goals 3.4, 3.8 and 17, but also support COVID-19 response. Meaningful collaborations are needed now more than ever before. This Year 3 report illustrates the great impact we can make when we work together to foster strong, resilient health systems that can meet the demands of infectious and chronic diseases alike.