OUR GLOBAL NETWORK
Access Accelerated unites the efforts of 20+ member companies and five implementing partners to drive sustainable solutions at scale for NCDs. Local priorities and the meaningful input of people living with NCDs guide our efforts to deliver on our vision of a future where all people have access to quality NCD prevention, treatment and care.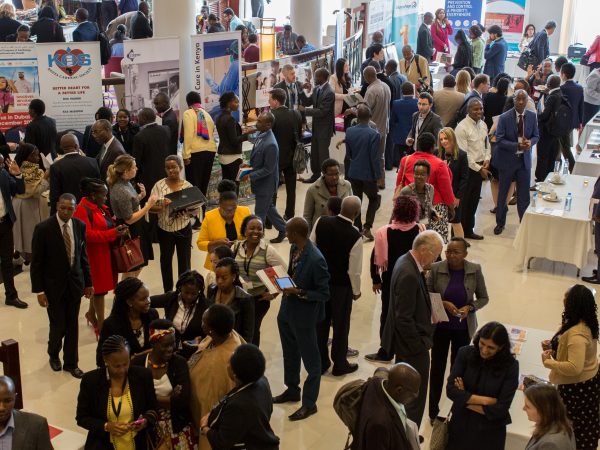 OUR MEMBERS
20+ COMPANIES CAME TOGETHER TO FORM ACCESS ACCELERATED IN 2017
With experience spanning the spectrum of NCDs, our member companies have a broad view of the challenge and a unique contribution to make to NCD solutions. Together, our member companies already lead over 100 public health programs reaching people in 136 countries.
Learn More
HOW WE ACHIEVE OUR MISSION
Undertaking targeted pilots

We are finding new ways to improve access to NCD treatment and strengthen health systems in low- and middle-income countries.

Scaling up contributions

We are scaling up our programming and investing in ways to collaborate to better meet the needs of people living with NCDs.

Expanding partnerships

We are finding new ways to address barriers to care, share best practices and advance solutions - together.

Rigorous measurement & transparency

We evaluate our efforts in order to share what works, address what does not and better optimize partnerships.
Access Accelerated Open Platform
The Access Accelerated Open Platform addresses a key barrier to effective collaboration: a lack of a centralized information detailing global programs, activities and research on NCDs. The Open Platform is a knowledge resource designed to catalyze global NCD action by centralizing programmatic information and providing the most complete information on the biopharmaceutical industry's efforts to address NCDs. By sharing knowledge, we can better serve the needs of people living with NCDs.
Visit the Access Accelerated Open Platform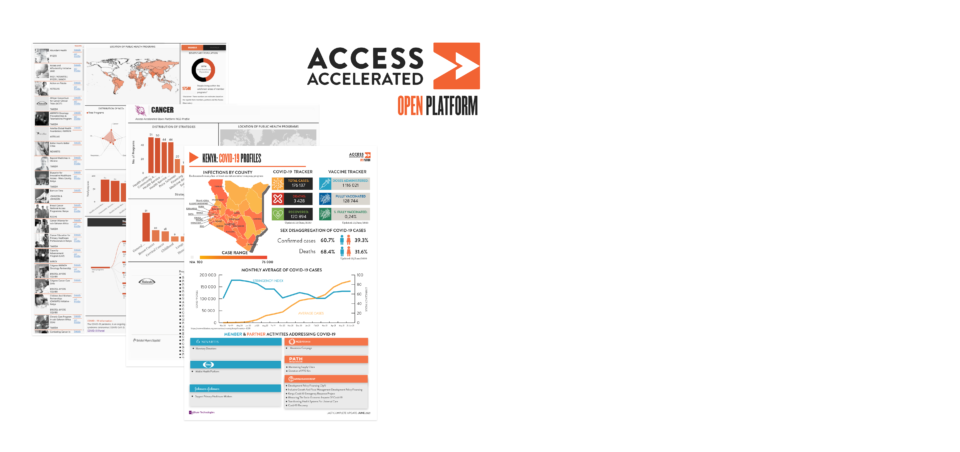 OUR PARTNERS
MOVING FORWARD TOGETHER
Collaboration is at the heart of Access Accelerated, and with our partners, we work across borders, sectors and silos to respond to country priorities and meet the needs of people living with or at risk of NCDs. Our dedication to fostering strong partnerships reflects our commitment to achieving UN Sustainable Development Goal 17, which prioritizes the revitalization of global partnerships for sustainable development.
City Cancer Challenge
The City Cancer Challenge (C/Can) supports cities around the world as they work to improve access to equitable, quality cancer care.
Initiated in 2017 as the first disease-specific partnership for Access Accelerated, we work together to transform the way stakeholders from the public and private sectors collectively design, plan and implement lasting cancer solutions. In the long term, these efforts will result in stronger health systems while catalyzing investment in cancer, which, in turn, will help drive progress towards the global target of reducing premature deaths from NCDs, including cancer.
The learnings and insights developed in C/Can's cities with our support can be applied to regional or national contexts, as well as to other NCDs to improve health systems at large.
Together, we are:
Creating solutions by and for people affected by cancer: The participation of people affected by cancer is embedded in the C/Can process. C/Can´s role is to respond to the needs of those most affected, informed by local knowledge and insights to co-create lasting change.
Working alongside cities to improve cancer care: Together with C/Can, we support cities to address priority gaps in cancer care with a growing integrated network of regional and international organizations and technical experts mobilized to partner on solutions designed for and by cities.
Advancing multi-sectoral collaboration for cancer care: We bring the public sector, private sector and non-governmental organizations together to share valuable insights and learnings from the city-level that can be applied to other contexts, or to the management and control of other NCDs.
Learning from local leaders and partners about what it means to be a cancer-ready city, we work together toward a shared ambition for a cancer-free future.
NCD Alliance
The NCD Alliance (NCDA) is a unique civil society network, founded in 2009, that united organizations across diseases and risk factors in more than 70 countries into a respected and credible global civil society movement. NCDA's mission is to improve NCD prevention and control worldwide, and we strive to achieve this through four strategic pillars of action: advocacy, accountability, capacity development and knowledge exchange.
Our partnership with NCD Alliance elevates the voices of people living with NCDs and supports our shared commitment to meaningfully involve people living with NCDs in creating sustainable solutions.
Together, we are:
Advancing a people centered approach to NCD prevention, treatment and care: This approach ensures solutions respond to and respect the expressed values, preferences, and desired health outcomes of people and they become active participants in their health and wellbeing.
Championing local advocacy and mobilization: Through the Our Views, Our Voices initiative, we provide training and resources to support civil-society led action, build and further national Advocacy Agendas of People Living with NCDs and construct a public narrative on NCDs that puts people first.
Supporting national NCD alliances: National NCD alliances are critical for fostering networks of people living with NCDs and providing a platform for meaningful involvement in awareness raising, advocacy, policy shaping and governance.
Access Accelerated and the NCD Alliance work toward holistic solutions and policies that address the unique needs of people living with NCDs. Through our partnership, we amplify their voices, build demand for action and drive progress at the national, regional and global levels.
PATH
An international non-profit global health organization, PATH's mission is to advance health equity through innovation and partnerships.
Access Accelerated works closely with PATH in our focus countries, drawing on the organization's capacity and expertise in digital health and data, community-based programming and supply chain strengthening to address local challenges.
Together, we are:
Building scalable and sustainable solutions: Together, we work closely with Ministries of Health and local partners to identify ways we can advance service delivery and increase access to NCD care.
Enabling better collaboration and coordination: We worked with PATH to develop the NCD Navigator, a first-of-its kind dynamic mapping resource that provides point in time data on NCD Programming within a country. The NCD Navigator fills a need for comprehensive information to enable data-driven decision making that better informs priorities, enhances coordination and reduces duplicative efforts.
Collecting and sharing evidence: We partnered to conduct end-to-end supply chain mapping to identify gaps and bottlenecks that are reducing the availability of NCD medicines, equipment and supplies in Kenya. With the findings, we will work with the Ministry of Health and other key stakeholders to develop an action plan that addresses barriers and improves access to NCD medicines and products. Similar mapping is also planned for Ghana and Vietnam.
RTI International
Research Triangle Institute (RTI) International is a leading independent, nonprofit research institute dedicated to improving the human condition by turning knowledge into practice. RTI's Center for Global Noncommunicable Diseases (NCDs) brings together the range of expertise needed to address the multi-sectoral impacts and imperatives of global NCDs along the continuum from detection to prevention to long-term disease care and treatment.
Access Accelerated is partnering with RTI to document lessons and achievements of the coordinated collective impact investments made by member companies. RTI's comprehensive Monitoring, Evaluation, Research, Learning, and Adapting (MERLA) method will capture Access Accelerated accomplishments, learnings, and impact in order to generate and apply evidence to strengthen access to high quality NCD services in low- and middle-income countries.
The findings from RTI's evaluation will help to inform local and global priority health policies; to accelerate public and private investment in NCD prevention, treatment, and care in LMICs; and to set a gold standard for impact and rigor in public-private partnerships.
Together, we are:
Developing a lean measurement framework: RTI is working with Access Accelerated and partners to develop a revised monitoring framework that reimagines the collective's key performance indicators, establishes mechanisms rapid feedback and collects a range of mixed methods data to capture the impacts of collective action.
Monitoring to support proactive learning: The revised measurement framework enables continuous monitoring of program activities and partnerships, and the application of findings to ensure that that data, information and knowledge generated through the project are intentional and actively used.
Sharing learnings to advance NCD implementation: We will share findings from Access Accelerated programs and partnerships with broad audiences to encourage further investment in access to effective services for NCDs.
Through this partnership, Access Accelerated and RTI will generate evidence that can be used to guide and advance investment in effective strategies for NCD prevention, treatment and care around the world.
World Bank Group
A vital source of financial and technical assistance to developing countries, the World Bank Group supports countries in achieving universal health coverage (UHC) by 2030 and expanding access to quality, affordable health care — working closely with donors, development partners, governments, and the private sector along the way.
The World Bank Group and Access Accelerated are working together to advance transparent dialogue and accelerate sustainable and scalable NCD solutions.
Together, we are:
Making the investment case for NCD prevention, treatment and care: We are making the economic and human capital case to prioritize addressing NCDs in national health policies with actionable plans that can be integrated into countries' national UHC agendas.
Advancing and accelerating solutions: We are collaborating to advance sustainable and scalable solutions to improve NCD prevention, treatment and care.
Advocating for stronger health systems: We have a shared understanding of how vital strong, resilient and well-resourced health systems are to ensuring all people have access to quality health services.
Sharing Knowledge: We share good practices and key learnings from both the public and private sectors – and how each are contributing to scalable solutions to tackle NCDs – to inform and improve broader NCD efforts.
The World Bank brings scale, credibility, global policy knowledge and the technical expertise in health system strengthening that is critical to reduce the NCD burden. The private sector brings innovation in NCD service delivery and insights to inform sustainable healthcare financing, including through private financing options.
Together, Access Accelerated and the World Bank are helping more people access NCD care, improving the quality of that care and ensuring better access to appropriate treatments that work for them.
World Heart Federation
The World Heart Federation (WHF) is dedicated to leading the global fight against cardiovascular disease (CVD), including heart disease and stroke. WHF is a community of more than 200 heart foundations, scientific societies, civil society and patient organizations from over 100 countries.
Our partnership with WHF allows us to pool resources, technical expertise and knowledge on the ground to advance heart health in low- and middle-income countries (LMICs).
Together, we are:
Empowering advocates for change at a local level: In Kenya, our health care provider training efforts are designed to improve early diagnosis and challenge misconceptions surrounding hypertension.
Convening stakeholders to drive more effective health policies: This includes advancing the development of national NCD registries, new ways to task-share to manage cardiovascular disease, and supporting taxes of unhealthy commodities so that revenue can be redirected to the prevention and management of NCDs.
Sharing knowledge and tools to advance action on CVDs: Access Accelerated and WHF gather crucial insights to inform CVD policy and catalyze action, from roundtables on hypertension in Colombia and Vietnam to data collection on the CVD policy landscape in 12 African countries.
We work closely with stakeholders, from national governments to local CVD organizations, to meet one shared goal: reducing the risk of premature cardiovascular disease death in LMICs.